Aluminium Shutters Brisbane: Customised to Your Needs
In Brisbane, durability and strength are the deciding factors when choosing shutters for your property. While there are other materials available, aluminium shutters are the best option.
Aluminium Slats offers customised aluminium shutters in Brisbane. Whether you are looking for a simple design or something more intricate, they can create the perfect solution for your property.
Our professional team specialise in creating completely custom shutter solutions using quality aluminium slats, perfect for adding privacy around pools, driveways, side of house, schools, bedroom windows, housing estates, businesses and more more.
Brisbane Aluminium Shutters Gallery
Types of Aluminium Shutters Available in Brisbane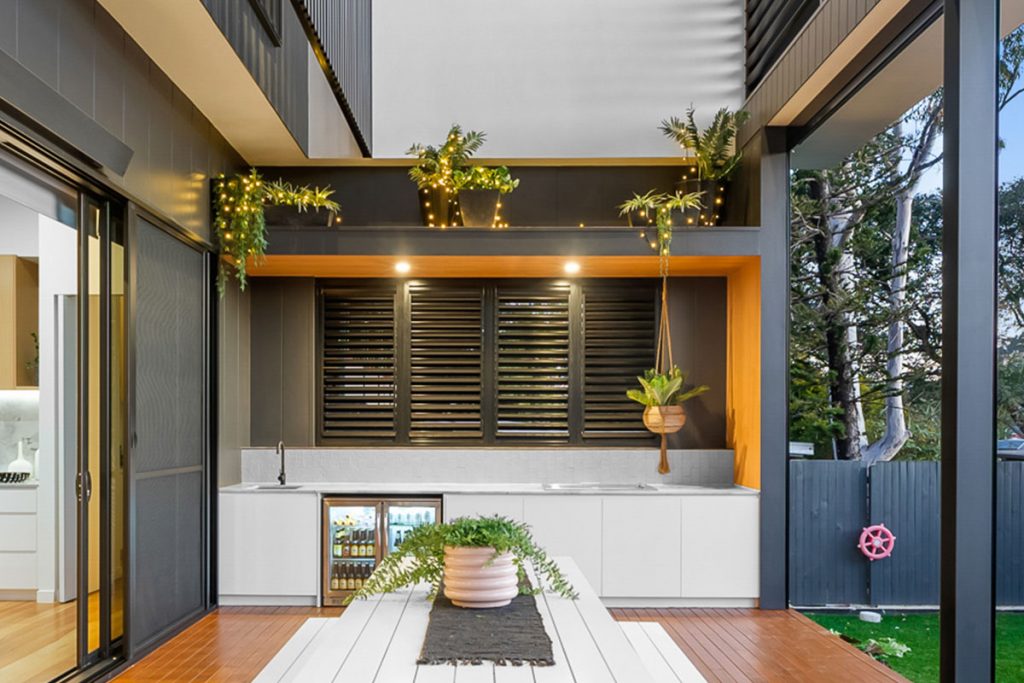 Horizontal Aluminium Slat Shutters
Horizontal slat shutters are a popular style of shutters among many homeowners because it is inexpensive, durable, and easy to install. Aluminium shutters are a great way to add value and protection to any property. Horizontal aluminium slat shutters have been around for many years, and adds both security and street appeal for your property.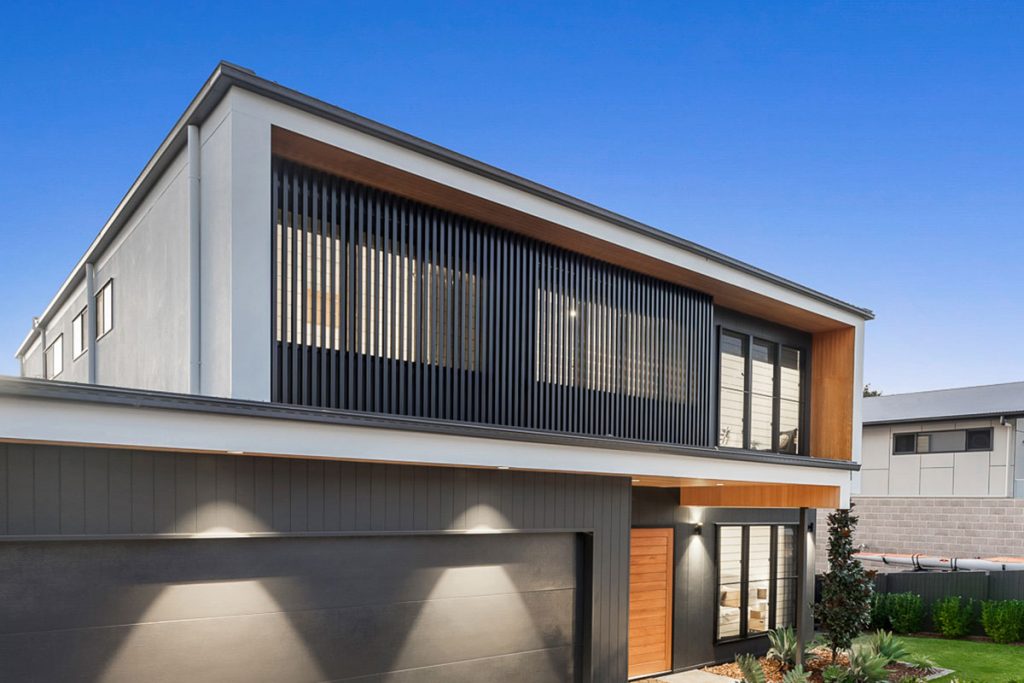 Vertical Aluminium Slat Shutters
You've seen it in all the prestige homes, backyards and gardens. But do you know what it is? Vertical slat shutters have been a popular choice for many years in Brisbane and is still going strong. Vertical slat shutters can add elegance, safety and a touch of class to any home.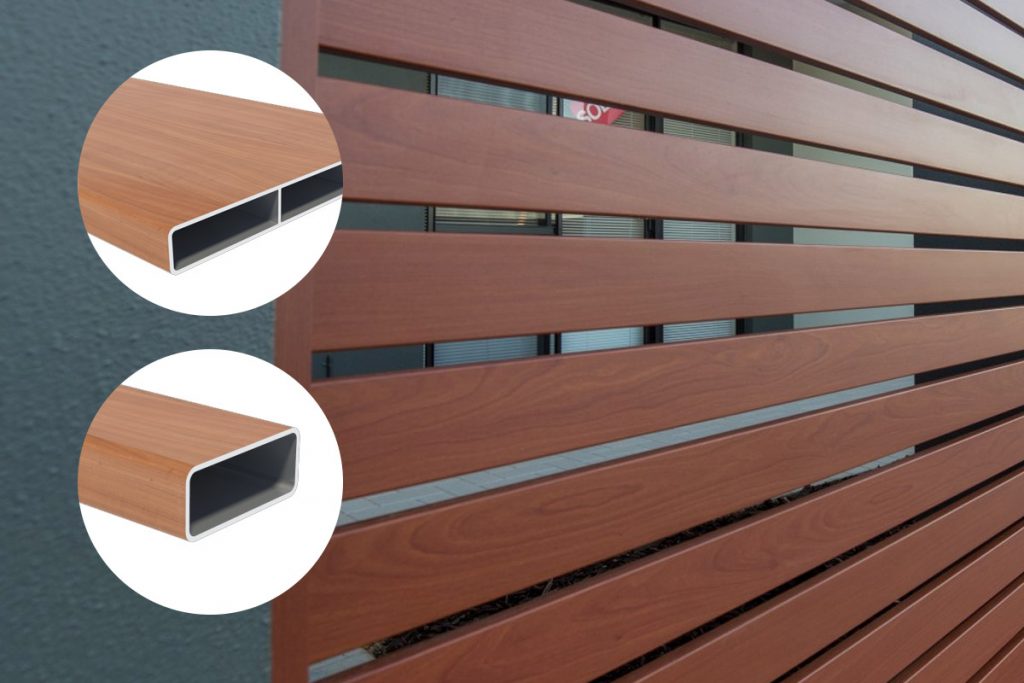 Wood Grain / Wood Look Aluminium Shutters
Aluminium slat shutters are one of the most innovative and stylish looking shutter designs that is used today. This is because it gives the look of wood grain or a wood look. This is not real wood and is a great way to save money as aluminium is a lot more affordable and much more durable than wood.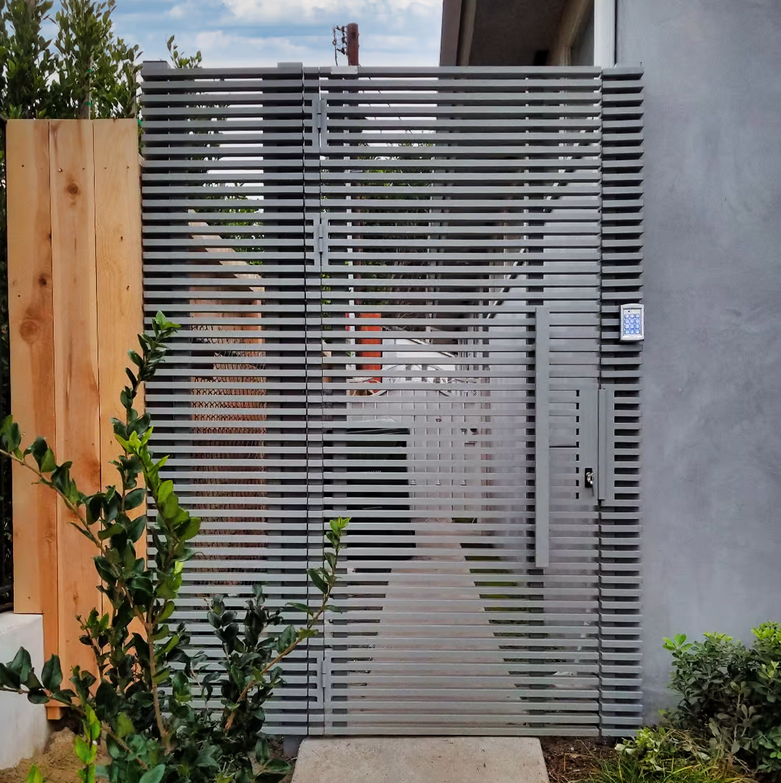 Powder Coated Aluminium Slat Shutters
Powdercoated vertical aluminium slat shutters are a very popular choice of shutters in Brisbane. Powdercoating your shutters will make it last longer than most other types of shutters and comes in a range of colour options. See Colorbond options below.
Aluminium Shutters Colorbond Colour Options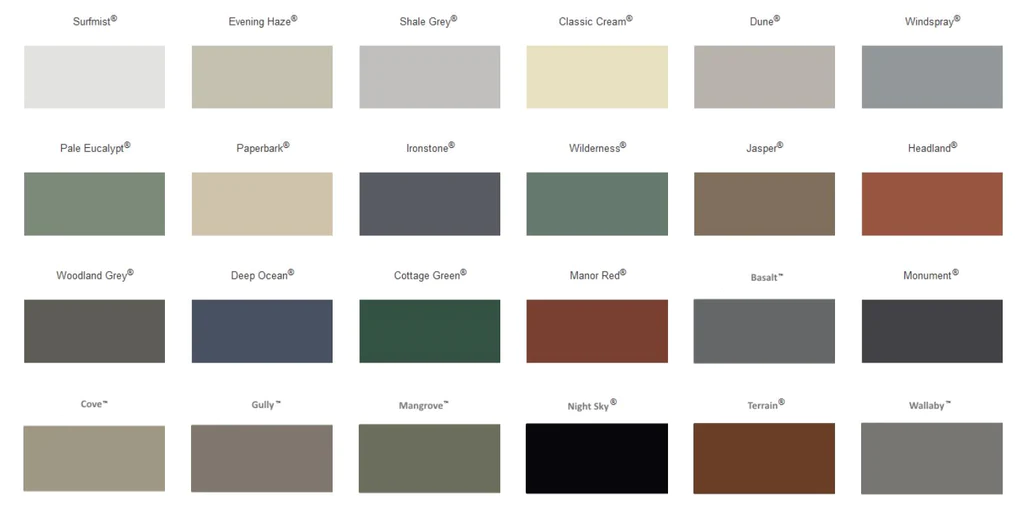 Why Choose Aluminium Shutters in Brisbane Lightweight
Aluminium is extremely light weight when compared with other materials such as steel and timber. When making fencing, aluminium is extruded, allowing for shape optimisation to increase strength and decrease weight. Fire Resistant
According to definitions, aluminium is inflammable. With a melting temperature between 600 and 660 degrees Celsius, aluminium will start to melt (not burn) when exposed to a sustained fire environment. When fire risk needs to be taken into account, aluminium fences are a fantastic option. Weather & Insect Proof
Additionally, the non-porous surface of aluminium is inherently resistant to fungi, mould, and mildew. Aluminum is immune to insects and termites. It is also resistant to exposure to water and sunshine, making it the perfect material for fence. Durability
Due to the exceptional long-term colour fastness and durability that aluminium powder coating offers, powder coated fencing is perfect for a variety of Brisbane & South East Queensland climates. Rust Proof
Rust cannot form on aluminium. Fencing can be used for a long time with a powder coated or imaged finish, requiring no upkeep and posing no corrosion risk. Eco-Friendly
Aluminum, the third most prevalent element and the most plentiful metal in the Earth's crust, is used to make slat fencing (after oxygen and silicon). Powder coated aluminium fencing doesn't have any persistent painting problems.
Get a Aluminium Shutters Quote
Our professional team is standing by to get your next aluminium shutter project started ASAP! Every second you wait can cause greater delays with materials! So call us now!
What are aluminium slat shutters?
Aluminium slat shutters are a type of shutter that is made up of sections of slats of aluminium, or aluminium alloy, which are then bolted or welded together to form a shutter panel. The slats are usually 400 mm wide and can be any length up to 6000 mm. The slats are usually 16mm thick and come in a range of colours and textures.
Are aluminium shutters suitable for the weather in Brisbane?
Brisbane receives quite a lot of rainfall in summer and high heats, therefore aluminium shutters are the perfect replacement to typical shutters such as timber and iron. They are low maintenance and withstand harsh environments.
Why use aluminium shutters in Brisbane?
Due to the durable properties of aluminium, choosing aluminium for your next shutter project in Brisbane is a great idea. Aluminium shutters won't rust, and do not require painting or staining, and are highly durable and it looks great!
What is the cost of aluminium shutters in Brisbane?
The cost of aluminium shutters is highly variable due to varying lengths, thickness, colours and styles of aluminium slats available. For a quick quote, contact one of our professional team members.
How to install slat shutters in Brisbane?
Installing an aluminium slat shutter is not overly difficult and can be performed by someone with intermediate skills. AluminiumSlats.com can either supply the shutters or supply AND install all across Brisbane.
Installation of aluminium slat shutters & railings
Below is a great video on how to install aluminium gate and railings. This video shows how you can do the install yourself or if you aren't too handy with the tools our professional Brisbane team can install for you.